We make perforated metals out aluminum, stainless steel, galvanized steel, cold-rolled carbon steel, copper, brass and other metals. Perforated sheets can be punched from metal plates and coils providing options of margins and blank areas, along with full perforation styles. A common way to produce perforated metal is using coils. This method provides great flexibility in both design and handling. Perforated coils can be produced faster than perforating sheets.
Standard perforated metal sheets we supply are size 1000 x2000 mm, thicknesses from 0,3 mm up to 10 mm and perforation from 0,3 mm up to 100 mm. Perforation range: round, square and rectangular holes and much more.
Usually holes diameter can not be lower than thickness. Usually the round holes layout is at 60°. Squared and rectangular holes, instead, are aligned.
Three Featured Products Taking Advantages of Unique Properties of Perforated Metal:
Architectural Perforated Mesh: Perforated metals have light weight and multiple choice of aesthetic patterns, can be easily adapted into forms to meet various designs. Widely used as facade screen, suspension acoustic ceiling panels, metal partitions and decorative curtains, louver shutters and sunshade screen, building ventilation screen in modern buildings and architectures like Shopping Mall, Museum, Hotels.


Checkered Metal Floor Plates: Taking advantage of checkered metals with raised anti-slippery texture, this kind of metal sheet is popularly used in various industrial flooring panels.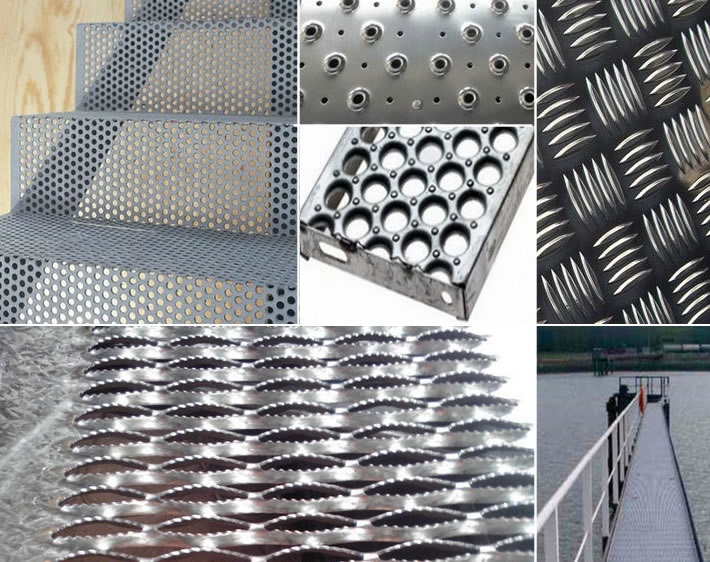 Perforated Filters and Tubes: Taking advantage of the precise hole and the strength of the one-unit metal material processing, perforated sheet is welded into filter pipes or filter support tube to control the passing liquid.

Typical Perforation Patterns:

Perforated Sheet Metals of aluminum, stainless steel, galvanized steel are most widely used base materials. Services Lamina offers include perforating, bending, rolling, cutting, forming and other processing. Lamina supplies perforated metal sheet with options for patterns, hole sizes, margins and blank areas.
Uses: Perforated panels are well suited for sorting, facades, ceilings, lamps, shelves, shielding, flooring and many other purposes as well.
Features of perforated metal:
1. The sheet material can be readily formed;
2. Easy installation;
3. Surfaces can be painted or polished and anodizing;
4. The thickness of materials is wide range from 0.3mm-8mm.
5. Largest selection of hole size patterns and configurations for decoration, ventilization, filter, screening and design application.
Lamina Perforated Metals available in a wide range of sheet metals:
Steel: Carbon steel and galvanized steel
Stainless steel, SUS302, 304, 304L, 316, 316L
Phosphor-bronze
Nickel
copper
brass
plastic
Aluminum: Aluminum alloy of various grades
Others.
Surface Treatment:
1) For aluminum material: a. Anodized finish, b. Powder coated, c. PVDF, d. Without treatment is ok
2) For iron steel material: a. Galvanized, b. Powder coated, c. Spray painted
Learn more about materials and finishes.
Major Production Steps:
First, make product mould based on customer's requirements: punching process begins with precise mold design, mold quality largely determines the quality of the products.
Secondly, metal punching. Lamina has advanced numerical control press equipment, and can punch the metal plate with precise hole, margins and arrangement.
Third step is edge trimming. If the production process of plate edge is beyond the tolerance range of your requirements, our skilled technical personnel can according to your request help you eliminate redundant edges.
Fourth step is metal plate leveling. Leveling machine can help us restore its original level which are out of shape in the process of punching.
Fifth, cleaning. To remove traces of its surface and make the perforatedd metal mesh clean.

more about processing and punching machine.